Apple CarPlay and Android Auto are Coming to a Dashboard Near You!
Next-level phone integration technology will soon flood the new-car market
Originally Published via the Halifax Chronicle Herald 
Navigation systems, Bluetooth phone interfaces and multimedia connectivity for entertainment have been around for a relatively short time in the world of the automobile, and advanced connected-car technologies, including the ability of some new cars to call up sports scores, movie listings and stock information in the dashboard, are even newer concepts.
All of this information, entertainment, navigation and communications stuff, accessible right from the dashboard, was once the stuff of sci-fi. Today, its virtually everywhere in the new car marketplace. I just completed a test-drive of the new Nissan Maxima (test-drive story coming soon!), and was delighted that it could even call up weather radar maps, right in the dashboard. Super slick stuff.
Here's the thing: most drivers are used to using the interface on their Smarphone.  The way they move and flick between menus, search for media, summon a contact or call up some info becomes second nature after a short period of time. Ditto the voice-command structure, if the user in question avidly takes advantage of the Siri voice assistant (iPhone) or the Google voice interface on an Android phone. The interfaces, voice command structures and operational procedures used by Smartphone users are used frequently, likely hourly or more, over the course of a person's day.
Then, you get into your car, with a newfangled, so-called infotainment system. With automakers trying to outdo one another, each of these in-dash systems boasts more functionalities, features and technology than the one before it. But there's a problem: the in-car interfaces are only used by drivers, who had to put away the Smartphone interface they'd been using all day, and use a typically-clumsier and more limited in-dash interface while at the wheel.
Maybe you shouldn't use an interface at the wheel, at all. But the fact is that people do, and will. With intuitive controls, selected functions locked-out while the vehicle is in motion, and voice-command, the various automaker-produced systems worked to operate with as little distraction or brain-power required as possible.
But what to do about that switch between interfaces. After controlling your Smarpthone like second nature all day, you get into your car, and your brain has to switch modes. Folks are happier using their Smarphones to access the contact, navigation directions, info or media they're after, but doing that at the wheel is illegal and naughty. But hold up—because two new technologies are rolling out to make legal use of your Smartphone interface at the wheel a reality.
Numerous automakers have recently announced that they'll roll out Apple CarPlay and Android Auto in the immediate future, integrating these next-level connectivity systems with their existing on-screen interfaces for the next big thing in mobile connectivity.
Both systems do similar things. Here's the sticky.
Drivers plug their Android or Apple Smartphone (sorry, Blackberry!) into the car, make a Bluetooth connection, and put their phone away. Through the vehicle's existing interface, drivers can activate CarPlay or Android Auto mode, which effectively scales up selected elements of the Smartphone display into the in-dash screen. The same alert messages, navigation interface, contact list layouts, media controls and data you see on your Smartphone are displayed on the in-dash screen, with the same look, feel and manipulation as on the handset itself.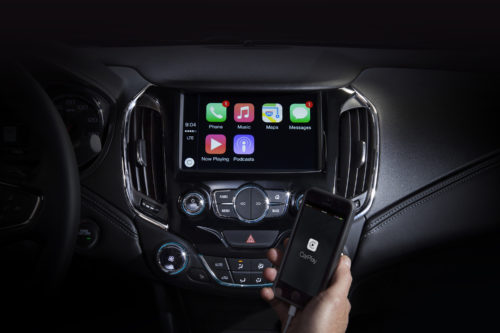 Your Google maps interface, complete with live traffic updates? It's right in your dashboard. Your Apple Music interface, complete with your full membership? Ditto. Incoming text messages? Arranged and displayed for easy access, just like they are on your phone. They won't display if you're driving, though you can ask Siri to read them to you. Other apps you use to read audiobooks, find delicious recipes or read your emails out loud? They're all there, right in your dashboard, with no new interface to learn.
Third-party app support is also available, so you'll be able to access Twitter, Spotify, Yelp and more, right from the dash. Even the community-based navigation app, Waze, is reportedly coming—allowing drivers to alert each other of nearby accidents, traffic situations and more, all without handling the handset. Since both car-based systems can be expanded by installing compatible apps on your handset, the expandability in functionality is virtually limitless.
Interestingly, both Siri and the Google Voice assistant can be accessed at the touch of a button, meaning drivers can voice-command hundreds of functions using the same speech command structure they're used to using on their phone, without handling their phone. Ask Siri to place a phone call, or ask the Google Voice assistant to tell you what time Mission Impossible is playing, right from the dash, and without taking your eyes off of the road.
Look for Android Auto and Apple Car Play in your next new car, with offerings rolling out from GM, Hyundai and others in the immediate future.