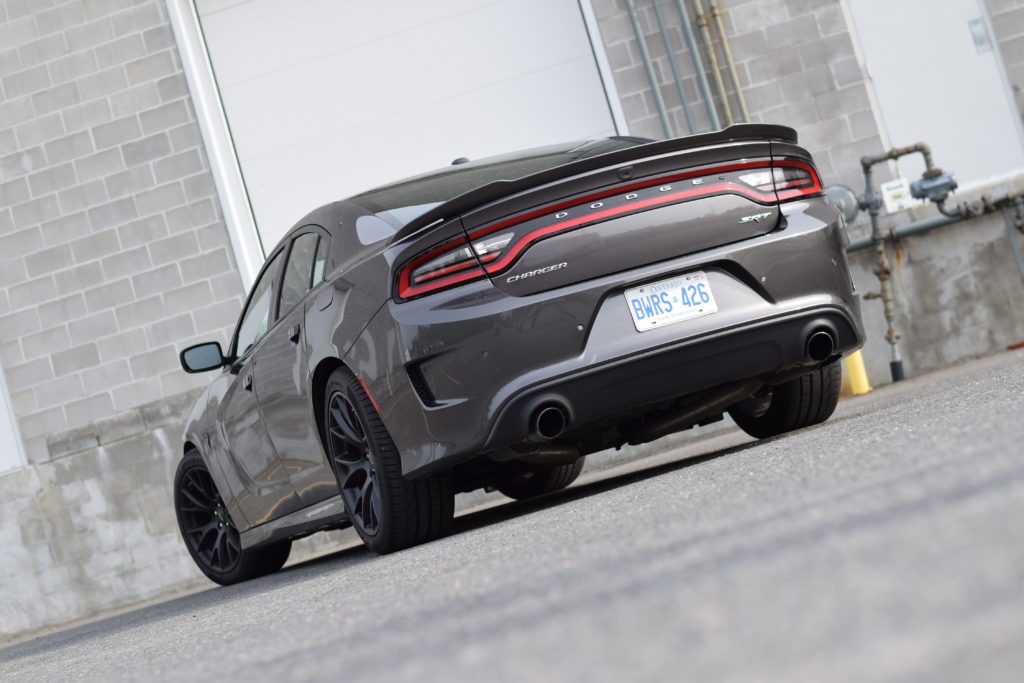 A look at some things to be prepared for ahead of owning a Charger Hellcat, or, the world's fastest factory four-door
In launching the Charger Hellcat, Dodge tossed a hand grenade into the fast sedan market—dismantling the superiority complexes of a heap of six-figure posh-rocket models in the process. Starting around $80,000 and packed with over 700 horsepower, there's virtually nothing on the market with four doors and a warranty that'll keep up. Hellcat has as much output as two Porsche 911's, and can achieve a quarter mile pass in ten second territory if you hit the strip on drag-slicks. That's in a big, comfy car with room for the kids, cruise control, cupholders and a great big stereo.
If you're after the world's fastest sedan, you're probably already considering a test-drive. Here are some things to know, and to be prepared for, if you're considering investment in the world's foremost big-power family hauler.
The Charger Hellcat is Enormous: The Charger SRT Hellcat is a great big car. There's room galore in front and rear seating rows, and travel with four adults or an average family of five can be handled with comfort and space to spare. Even my largest friend, who is north of 290 lbs. and afraid of celery, fit just fine. Add in the big long trunk and generous at-hand storage facilities, and you've got a rocket-powered take on the traditional great-big American sedan.
Sound Effects: Charger SRT Hellcat serenades the driver at virtually all times with sounds uncommon in most rides. You'll take in howling noises from the beefed-up gears in the rear differential, the rumbly-bumbly exhaust note that's just a tick below illegal levels at full throttle, and the agonizing low-RPM, light-throttle whine of the supercharger that sounds upset you're not opening it up.
Built-In Fan Club: Any card-carrying gearhead within line of sight of the Hellcat will swoop in for a closer look. Expect to make friends while gassing up, loading groceries into the trunk, or even when driving down the road, where those parked near you at red lights will shout "how is it??", "nice frickin car!", or "light em up!"  Owners of other fast Dodge models will intercept in traffic, hoping to cruise alongside the Hellcat for a closer look. The all-holy Hellcat badge is new, but it's already recognized and revered in the fast Dodge community.
Shifty Stuff: Charger SRT Hellcat only comes with an 8-speed automatic, offering both lever and paddle-activated manual shift modes. Manually-summoned shifts engage quickly when requested, though the shifts themselves won't satisfy drivers after lighting fast gearshift speed and perfect rev-matching. The Hellcat feels more like it's hammering the next gear into action with a sledgehammer when opened up.
An Authentic Performance Feel: Weight is a mortal enemy of performance, and the Hellcat is a big, heavy sedan. Engineering helps compensate though, and the magnetically-adjustable shock absorbers are one example of how. They constantly adapt damping force to finely control the motion of the body over the wheels, helping keep Hellcat's weight stable and predictably planted. Massive Brembo brakes with rotors the size of trash-can lids help ensure stopping power that's just as potent and startling as the acceleration. The steering is hefty and quick—finely dialed in against the rest of the Hellcat's attributes, letting drivers access quick and commanding reflexes, while communicating the weight of the car and the front-wheel traction situation at all times.
Fast as Hell: The acceleration is absolutely lethal, with five seconds of consecutive full-throttle operation, even from a standstill, blasting you deep into demerit point territory. The SRT Hellcat snaps necks off the line, with pull becoming downright explosive as the supercharger gets breathing a bit further up the tachometer. At full rip, the machine-gun exhaust note drowns out the siren-like whine of the blower, and everyone nearby will wonder who took their drag car out for a spin on the street.
Speed piles on at an alarming rate, and though your writer drives big-power cars regularly, the Hellcat made me say bad words, often and vigorously, at full throttle. It's silly-fast. Keep common sense and sensibility front and centre while driving your Hellcat, though: the crushing power output means this is a car that'll get ugly in a hurry if driven without absolute respect.
Customizable Performance: In-dash calibrations of numerous performance systems are available to fine-tune the performance experience to the driver's individual needs or tastes. The magnetic shocks and transmission shift speed can be set into one of three levels, with varying blends of comfort and performance. Traction Control can be dispatched in one of three settings too, depending on the size of the driver's skill level and reproductive organs. Launch Control enables blazing off-the-line starts at the drag strip.
Long Haul Comfort: The long wheelbase and adjustable shocks turns in a peaceful highway ride, and wind and road noise levels are kept well within limits. The large, nicely-trimmed cabin, fast-acting and easy-to-use navigation system, and powerful headlamps all add confidence and comfort on hours-long drives.