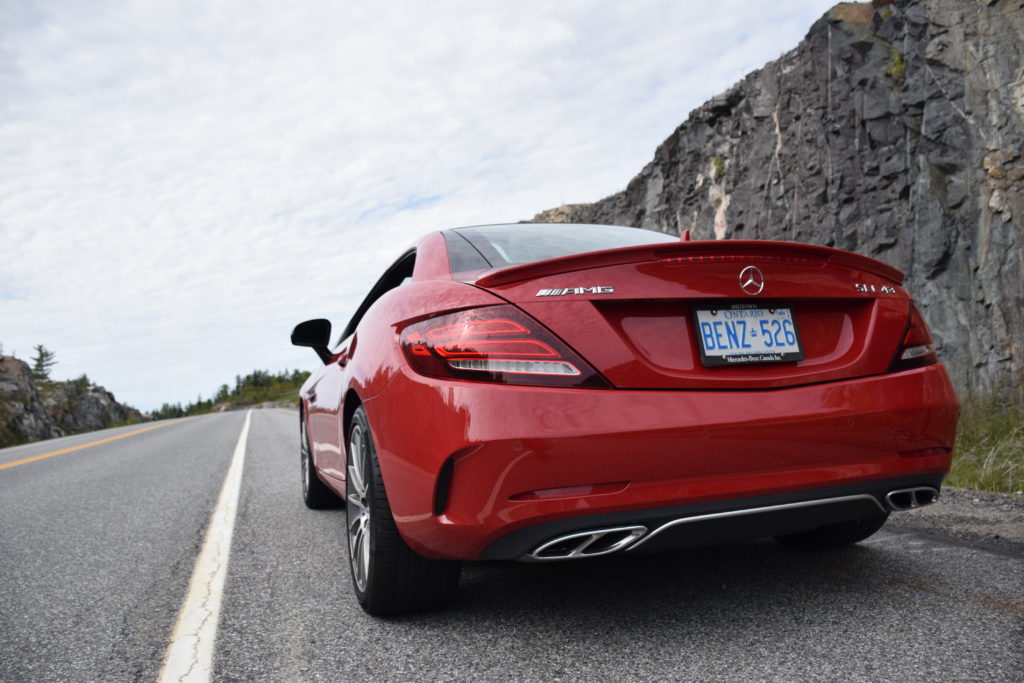 Desire to own a little red rocket roadster have you itching like a bargain bath-robe? Got about $70,000 burning a hole through your pocket like a Samsung Galaxy S7? If so, the 2017 Mercedes SLC 43 AMG is batting its eyelashes at you.
Pricing from $71,000 for this high-performing variant of Benz's entry roadster gets you stunning looks, with vents and sculpts and exhausts leaving little guesswork about it's intentions. The motorized roof takes a hike in seconds. There's a twin-turbocharged 3-litre V6 with the better part of 400 lb.-ft of torque.  She g0es, folks: this one's fast, thrilling, and drives best when pushed real hard.
Add in the glorious AIRSCARF neck heaters, sports seats as comfortable as a day at the spa, a comfy-for-a-sports-car ride and an easygoing driving character when a laid-back cruise is the order of the day, and this machine flaunts a great split personality: fast and fun, or relaxing and easygoing.
Other notes? Headlight performance and on-board storage are above average, though the interior, and specifically, some of the interfaces on board, are looking dated.
Check out the full video review and photo gallery of the new SLC 43 AMG below.