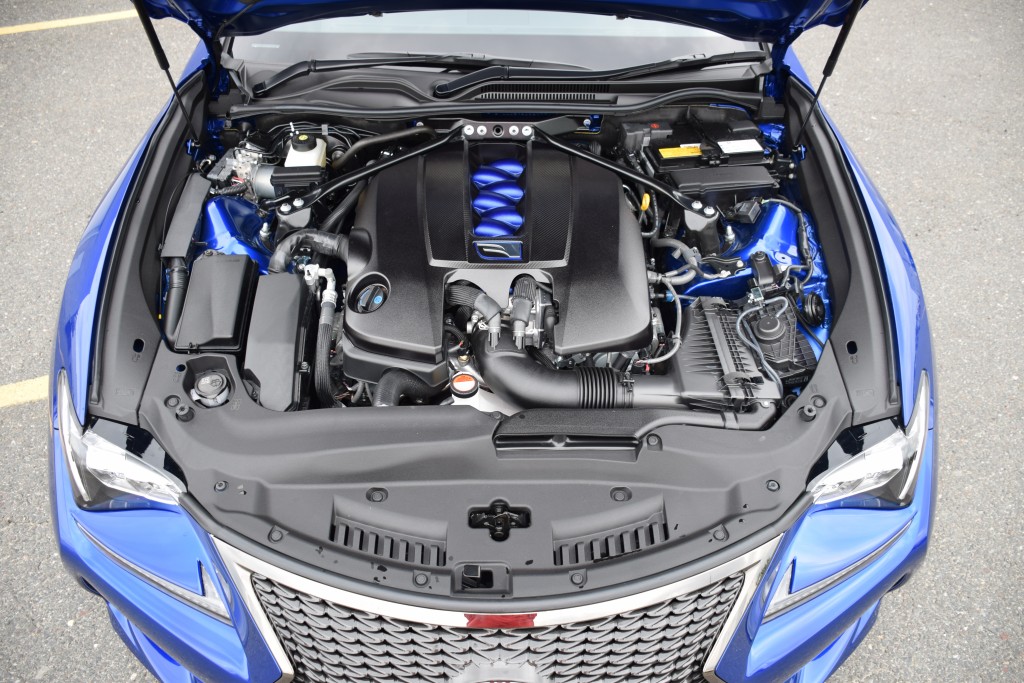 Lexus's RC-F Coupe has a pleasingly easy-to-drive side
The Lexus RC-F styling language has a bit of an Incredible Hulk thing going on. Bulges, openings, lumps and slits are scattered across its body-work, and it looks like the big green fella, freeze-framed, just before the T-shirt lets go and the muscles come busting out.
Strange, though.
As displeased and tense and angry as the RC F looks, it's a calm, relatively quiet and even relaxing thing to drive leisurely. You could run errands with it, or take an hours-long highway drive and get out refreshed. It's got big-guy friendly seats, isn't hard to board and exit, and often proves as peaceful on board as a luxury sedan. That's all a unique contrast to the looks, the list of performance upgrades that reads like an aspiring race-car driver's wishlist, and the RC F's marketing, which comes highlighted by lap times and figures and performance specs.
So, a split-personality.
As top-dog rocket-sled in the Lexus stable, RC F is an attention-grabbing stare-magnet intent on snapping necks with its styling and acceleration, and intent on re-arrangement of occupant internal organs via grip and braking capabilities. The hardware lists presents as a track-capable coupe, and there are classy appointments for the daily grind. Though RC F's acceleration and noises will light your face on fire, it also proves comfortable and accommodating, and feels the part of a premium product that's happy to relax and unwind when driven gently.
All copies pack two doors, four seats, 8 automatic gears browsed at lighting speed via paddle shifters, and rear-wheel drive. A five-litre V8 turns out 467 all-motor horsepower, with no turbochargers to spool. And, like other RC variants, a drive mode selector allows switching between efficient and comfortable cruiser and track-munching performance weapon on the fly.
Use the ECO or NORMAL modes on a peaceful drive, and the angry RC F glides peacefully down the road, with a hint of tautness from the suspension, a whiff of V8 hum from the pipes, and the thick and solid slab of low-end torque dispatched towards refinement by keeping the revs low and generating an effortless feel.
Notably, the ride is markedly soft, gentle and easygoing on nicely-maintained roads. Unless you're headed over a really nasty bit of pavement, the RC F doesn't feel like its smashing and crashing into the bumps.
Twist the dial to SPORT or SPORT + mode, and the RC F gets hot and bothered. The throttle and transmission go hair-trigger sensitive. Downshifts come at any touch of the throttle, prioritizing use of the engine's full rev-range, rather than just the low-end torque. The steering gets heavier and more sensitive. Special baffle-flaps in the air intake open more eagerly to flood the cabin with meaty V8 noises. Even the digital tachometer switches to a race-car layout.
Boot down, and power floods to the rear wheels, escalating in intensity as the 7,300 RPM redline approaches. There's a real hot-rod feel to it all: instant engine torque response, a slight slip and squirm from the rear-end accentuating the rear-drive setup, and a positively saturating snort that's meatier than a bagfull of Baconators. It's an absolutely thrilling engine to work hard.
Hit a closed course with your RC F, and you'll find a car that's eager to please, driver traction assists that feel tuned to work with, not against, you, and a frisky, easily throttle-steered character should drifting and sliding around be of importance. The RC F mightn't be the most precise and agile car in its class, though the capability, reflexes and thrills built in, as well as the durability of its high-performance braking system, should be pleasing to novice and experienced performance drivers alike. Pushed, the RC F feels heavy, locked in, and confident.
Best of all, RC F is less quiet and discreet-looking than the comparable rocket-powered Mercedes, Audi, BMW and Cadillac models. If you're after a high-performance car that truly looks special and turns heads, this one nails it.
Other notes? The cabin is laid out and designed with a plethora of materials, colors, interface themes and textures smattered about. Some will find it looks sophisticated and high-tech, others will find it looks disorganized and messy.
Complaints? I wished for a lower seat height, as I felt perpetually like I was sitting about an inch too high in the cabin, and paddle-summoned shifts happen instantly, though often with a lurch or slam through the driveline. Shift speed is world-class, though the refinement drags a little behind the competition.
So, here's a potent and extreme luxury sports coupe that's accommodating, unique looking and comfortable to drive in a wide range of situations. The RC F should prove a compelling luxury coupe, and a compelling performance coupe, depending on the position of the drive selector dial. Just a flick gets you a comfortable cruise, or Lexus's most exhilarating performance experience on a closed course.