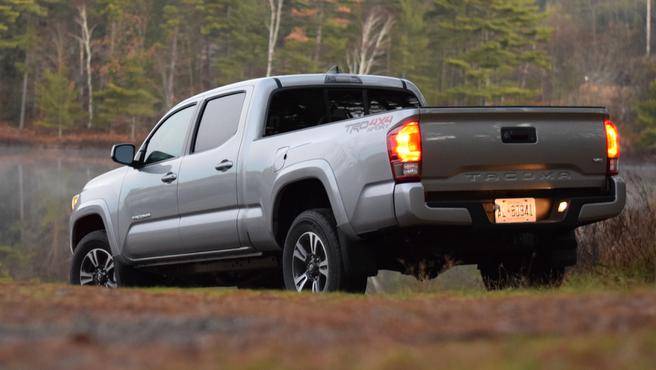 My little brother is a devoted owner of two former Toyota Tacoma pickup trucks and, presently, a Toyota 4-Runner and RAV4.
The other day, he hurried over to check out the latest iteration of the much-loved Toyota Tacoma, which I'd be spending a few days with for review.
We went for a ride and little-bro summed the new truck up nicely.
"It's like they fixed the complaints I had about my old trucks: the way you sit inside is better, the ugly dashboard is gone, the short box sides aren't as short and the old engine was tough, but sort of gutless and this new one is miles better. This is the perfect Tacoma."
Little brother and his familiars, as well as mid-sized pickup shoppers visiting the market for the first time, shouldn't be disappointed on a test-drive.
Toyota has updated, optimized and advanced the Tacoma on virtually all fronts, effectively helping to reinforce the machine's leading position in the Canadian mid-size truck segment.
The updated appearance remains uniquely Tacoma. It's slim and muscular as pickups go, but with more accenting, sculpting, a deeper hood scoop, and more personality conveyed via the fascias with redesigned lamps and grilles.
The prominent 'TACOMA' stamping on the tailgate, and taller box-sides, further freshen the look to one that's improved and more striking, but still immediately Tacoma.
Said tailgate opens gently and closes easily thanks to an assist spring, reducing the risk to the cranium' of nearby children or short folk.
Numerous upgrades are carried out beneath Tacoma's new skin, too. Key among them are the frame structure upon which Tacoma is built.
Similar in shape and dimension to the outgoing frame, the latest Tacoma frame includes reinforcements, bracing, and the use of light and strong high-tensile steel towards added strength and rigidity.
Mass optimization and safety benefit, though the stiffer frame also gives engineers a better basis from which to fine-tune suspension characteristics.
In this case, more wheel travel was enabled alongside a quieter and more comfortable ride.
High-tensile steel is now utilized in Tacoma's body as well. The body is stiffer, stronger and safer, and reduced body deflection on rough surfaces means less air moving through the cabin on bumpy roads, which results in a quieter ride.
All said, the added stiffness and recalibrated suspension means that shoppers coming out of a few-year-old Tacoma can expect notably lower noise levels at speed, less road and suspension noise on rough surfaces, and a reduction in the rigid and jouncy ride characteristic of older Tacoma models on rough surfaces.
Overall ride quality and sound levels, even on rough surfaces, are notably improved, here.
Another under-the-skin upgrade is Tacoma's new top-level engine. Out-powering the proven four-litre V6 is a new 3.5 litre unit, running the high-efficiency Atkinson cycle and both direct and port fuel injection for a big power boost to 268 horses, or some 32 better than the former, bigger engine which little-bro had in both of his past Tacoma pickups. Torque output remains the same.
The new V6 is available with automatic or manual transmission options, and proves more willing to pull at all revs, makes you question whether it's running at idle, operates in near silence unless opened up, and pulls with impressive punch when requested.
Where the old four-litre started getting wheezy around 4,000 revs, the new powerplant pulls pleasantly, right to redline, when called upon for passing or merging.
Tacoma's new engine promises to use less fuel than the outgoing unit, too, though consumption figures failed to impress on my watch, since the engine hadn't yet completed break-in.
Likely, Tacoma's new interior is its strongest asset. The dated interfaces, boring shapes and aged controls have been yanked. The dashboard is no longer all beige and grey and drab and miserable looking.
A prominent high-tech and premium visual theme is apparent instead, with plenty of glossy accents, digital readouts, a full-colour display screen in the new instrument cluster, and the use of contrasting colors, textures and materials throughout the cockpit for a sense of complexity.
Three-dimensional and rich with layers of overlapping, floating and intersecting panels, Tacoma's new cabin also features a central touch-screen that's glossy, high in resolution, vivid in graphical output, and highly responsive to the touch.
A few handy and delightful features are scattered throughout. The tester got a wireless recharging bin, allowing drivers to juice their compatible Smartphone by simply placing it inside, no plugging-in required. A novelty, yes, but a delightful touch all the same.
All Tacoma models get a standard mount for the popular GoPro action camera, too. Again—a novelty which could be fitted to any vehicle for about nine dollars, though perhaps, realizing that many Tacoma shoppers own a GoPro, this is another charming touch.
A few further notes: Tacoma's lighting system has improved, with the halogen lights, and especially high-beams, proving above-average in beam dispersion and reach, compared to the last-generation machine's simply run of the mill lighting performance.
Steering is nicely isolated, and even the roughest road your writer has access to, driven at a good clip, failed to coax any pull, dispute or tugging from the wheel. It stays straight and steady at all times, so driving on even worst-case-scenario roads or trails won't require any fighting with the steering wheel.
Complaints are typical of the Tacoma. Though the driving position has been improved, drivers remain perched low in the tall cabin, legs stretched out in front, rather than hanging off of the seat, though somewhat less than in previous models. In your writer's ideal driving position, it was thigh versus steering-wheel underside every time I hopped on board.
And, without its sportier 'ECT POWER' mode engaged, the Tacoma's automatic transmission avoids gearing down and can feel sluggish, presumably to save fuel.
End of the day, and despite the updates, this highly-improved Tacoma is still instantly and unmistakably a Tacoma from a mere glance or a quick drive, which makes it a natural upgrade for new and existing customers alike.