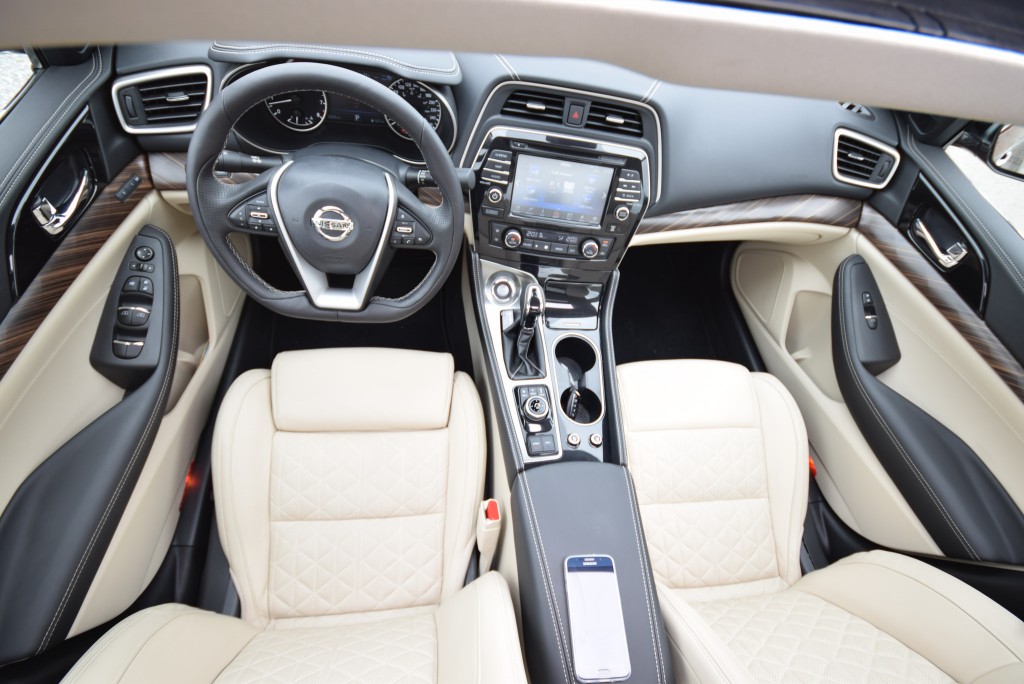 Advanced CVT technology lies at the core of the new Maxima's refined performance
Give the 2016 Nissan Maxima a bootfull of gas, and it sails away from where it was on a silky wave of thrust that comes on strong, swells up, and keeps on keepin on until the throttle is released. Running a Continually Variable Transmission (CVT) has been the name of Maxima's game for years, and the just-launched, latest version of the long-lived sports sedan capitalizes on Nissan's expertise in this type of virtually gearless transmission in a big way.
Drive gently, and it's like a super smooth-shifting automatic: free of surging, shifting, pausing and squirming through the driveline as gears change, because they don't, because there aren't any. The speedometer often climbs while the tachometer stays fixed, the engine pegged at one RPM during acceleration, saving fuel. Climb a hill, and there's no downshift– just a slight and gentle increase in revs.
But it's during heavy-footed and sporty operation when the benefits of the latest XTronic CVT shine brightest. No shifting. No pause. No hesitation. No interruption in power flow to the front wheels. No sense of the engine running out of steam as a gear comes to completion and another is engaged.
Instead, throttle smashed, the tachometer needle magnetizes towards the engine's power peak instantly, as a burst of momentum cranks the speedometer clockwise at an alarming rate. There's less sensation of the driveline choosing, engaging and progressing through a gear: instead, it's an unrelenting surge, accompanied by a lusty howl from the engine room.
She really scoots when you give her the boots—and all with a beautiful and refined polish. Here's a driveline that happily delivers effortless, smooth and easygoing operation, mischievously quick acceleration, and anything in between. Best of all, revs are allowed to fluctuate at wide-open throttle via some clever programming and 'pretend' gear shifts. So, boot down, the XTronic CVT mimics an automatic with very close ratios, and lightning-fast and liquid-smooth shifts.
The capabilities of Maxima's unique transmission are one part of its performance equation. The legendary VQ-series engine is the other, with a recent engineering work-over of the 3.5 litre V6 seeing over 60 percent new parts employed towards an increased 300 horsepower and reduced fuel consumption. Reduced weight, thanks to Maxima's new light-weight, high-strength body structure, simultaneously improves performance and efficiency, too.
The setup of the handling, steering, and suspension targets enthusiast drivers as well, though perhaps not as well as the driveline. It's a mixed bag at times: big wheels, thin tires and fast steering give Maxima above-average instantaneousness in response to steering inputs, though shocks sometimes prove too soft for the quickness of the steering, and can result in a sensation of startling the Maxima with a steering input dialed in at speed. Sport Mode helps notably—stiffening up the steering when engaged, and helping smooth things out. In this calibration, Maxima operates with a locked-in, confidently athletic character while browsing sequential corners at a decent clip.
Thing is, the steering is on the numb side where feel is concerned, and though the wheels feel nicely planted to the road, Maxima's body can feel busy over top of them as it undulates about. All said, some drivers will wish for a slightly stiffer shock-absorber calibration to better match the fast steering and big body, though Sport Mode helps. And, ultimately, Maxima should still come off as the most entertaining big sedan you'll encounter during cross-shopping test-drives against competitors like the Impala, Avalon, Genesis, and 300.
Plus, though Maxima doesn't have a squishy, puffy ride like a pure luxury car, it's a gorgeous highway cruiser with a softly-sporty ride, and noise levels kept very nicely in check. The seats are long-haul ready, with a semi-soft firmness like the suspension, and plenty of support. The high-output Bose stereo makes a nice partner for lengthy drives as well, thanks to absolutely vivid audio quality and enough aural firepower to make your arm-hairs tingle.
Drivers take it all in from a unique cabin that does its own thing, and does it well. Inside the top-line, Platinum-grade tester, stitching, leathers, soft-touch materials, and metal accents are flaunted and laid out to create the sense of various elements floating over one another. Materials are displayed proudly: virtually anywhere your fingers or eyeballs may land on inspection of the cabin, they'll encounter something soft and upscale.
Quilted leather covers the seats, which wouldn't look out of place in an $80,000 Audi, and drivers will likely love how the dash and console are curved slightly towards them, for a cockpit-like separation between the front seats. The flat-bottom steering wheel hints at the Maxima's high-performance intentions, too.
There's a slick central display interface with a giant screen, and a laundry list of advanced functionalities. If you're a gadget-nerd like your writer, you'll love the ability to check your stocks, gas prices, or even live weather radar maps, right from the dash. This is really one-of-a-kind cabin where styling and technology are concerned.
Exterior styling is similarly exclusive. The look is enormously stand-out, with various never-before-seen styling elements, including the prominent grille and floating-roof look, ensuring you're not mistaken for anything else moving down the road, or especially, in someone's rearview. The LED running lamps and scowling headlights contribute to a slightly ticked-off appearance, and from the driver's seat, the uniquely curvaceous hood is apparent, reminding drivers of the exterior styling from their seat.
It's from that driver's seat where your writer's main complaint surfaced. Those shaped similarly to me (about 5'11, more torso than legs) may wish for more headroom, or the ability to lower the driver's seat an inch more, to sit more behind the dashboard rather than over top of it, and improve headroom. Though rear seats are largely spacious laterally, headroom is equally as precious in back as well.
Other notes? Mileage impressed on my watch, with a very respectable measured-by-hand average of 8.6L/100km overall, despite your writer's heavy foot. Further, brake feel is above-average, with a quick and firm bite from an initial press of the pedal, smooth ABS action, and a progressive and precise feel at the pedal that makes Maxima feel as eager to get stationary as it is to get up to speed.
End of the day, if above-average levels of uniqueness, refined performance, luxury and high-tech are priorities in your next great big sedan, the latest Maxima should be considered a priority test-drive.
2016 Nissan Maxima
Engine: 3.5-litre V6, 300 horsepower
Drivetrain: front-wheel drive
Observed Mileage: 8.6L/100km
Transmission: XTronic CVT with manual mode
Features: Nissan Connect telematics system, dual moonroofs, climate controlled seats, automatic lights, wipers and climate control, xenon HID lighting

What's Hot: liquid smooth drivetrain, comfortable ride, unique and upscale cabin, very decent fuel mileage
What's Not: limited headroom, shocks seem too soft for the steering at times
As Tested: $43,000