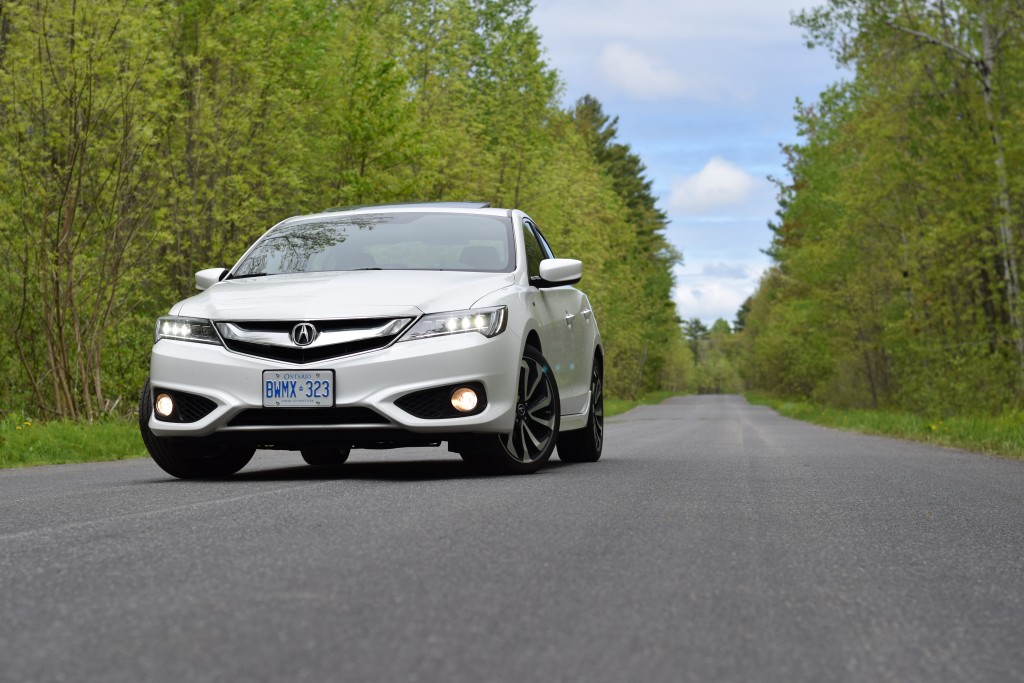 ILX A-Spec delivers good value and plenty of smiles
With the full spectrum of Acura's DNA applied, added power, added feature content, new safety systems and a fantastic new dual-clutch transmission, the 2016 Acura ILX is a generously-loaded entry-luxury sedan package that comes in from under $30,000. Shoppers after their first luxury sports sedan who don't want to spend a small fortune on a car, and another small fortune to add the features they like, will likely find the added value works towards a compelling package.
The 2016 Acura ILX A-SPEC is the top-dog version of Acura's entry-level ride, packing added feature content inside and some cosmetic upgrades outside to help set it apart from standard models. With an eye for sporty flare, the A-SPEC model combines all ILX feature content offerings with athletic add-ons like a full body kit, up-sized wheels, metal pedals and more. Push-button start, a sunroof, fog-lamps, bluetooth, navigation, adaptive cruise control, heated seats and a premium ELS audio system were all included.
All ILX models, regardless of grade, are four-door, front-drive units with a 2.4 litre i-VTEC engine outputting 201 horsepower to the standard 8-speed dual clutch transmission. For the 2016 update, a boatload of newly-infused Acura DNA is included as standard, to build value by packing the ILX full of those techy bits and styling touches that lately, make an Acura an Acura.
In addition to key Acura brand attributes including top-rated residual values, reliability and safety, the ILX offers advanced hazard detection and auto-braking systems as standard, along with Acura's one-of-a-kind LED cluster headlamps, the latest in connected-car tech via the Acuralink system, and dual screens occupying the vertical centre of the dash.
The on-board atmosphere puts the technology front and centre, with dark and metallic colors and bright accents giving it a youthfully premium and luxurious look. Steering wheel push-button and voice-activated access to numerous functions, as well as 'set it and forget it' operation of the lights, climate control and wipers helps round out the experience.
Plentiful room for at-hand items is on offer, alongside numerous recharging points and covered storage cubbies. The right materials are generally found in all of the right places, and front-seat entry and exit is easy, with memory seats working for easy access to the perfect driving position. Rear seats are comfy once settled into, and two occupants of about 5'11 can sit behind one another with little issue—though the rear roofline shape and sunroof provisions cut into headroom and complicate rear-seat entry and exit thanks to the short rear door aperture. The trunk is deep, lengthy, and has a generous opening for larger items.
The ILX A-SPEC rides sporty first, luxury second, with the body tautly sprung closely to the big wheels and an athletic stiffness demonstrated alongside a touch of softness around the edges. Shoppers preferring a suspension calibrated for direct and precise responses, and one that backs them up for high-speed browsing of their favorite backroad, but without ruining ride quality on a long highway trip or around town, will probably find this setup to be just right.
Brakes are calibrated very nicely too– not overly sensitive or super sporty, but engaging hard and fast from even a light touch on the pedal to add confidence in getting the ILX stationary in a serious hurry when required.
To your writer, the ILX's big appeal is the new powetrain. In a market where most competitors have gone to turbocharging, the ILX stays true to Acura's roots, generating power instead from an honest-to-goodness, hard-working, high-revving four-cylinder VTEC engine that loves to spin fast. Redline is 7,000 revs, and every one of those is used to make enthusiasts smile.
In typical VTEC engine fashion, this engine piles the power on as the revs climb, pulls hard to redline, and has a peaky and thrilling power curve with a huge sense of rising action as max revs approach, complete with the elevated sound effects as the VTEC power cam kicks in. Yehoo! Here's an engine that feels and sounds thrilled to be absolutely wrung-out when drivers operate it with a heavy foot.
The old-school mechanical snarl is controlled with millisecond precision via the paddle-shift dual clutch transmission, which is capable of perfectly-matched, lightning-fast shifts every time, all with absolutely no interruption to the pulling power for change-ups. It's also remarkably smooth in stop-and-go traffic, enhancing overall refinement.
So, in all, the ILX A-SPEC's powertrain works favorably in virtually all situations, and the full-throttle experience isn't to be missed. Other driving-related notes include excellent performance from the LED headlights, and very good fuel mileage on your writer's watch. To most drivers, the blend of on-demand performance and low fuel consumption rates during gentle driving will prove appreciable.
The fully-loaded ILX A-Spec tester, wearing its sporty body kit and packed with all of the bells and whistles, comes in around $35,000– right smack at the entry price of a Mercedes CLA 250, and about $1,000 cheaper than a base model BMW 3-Series. You can bet that's on purpose.