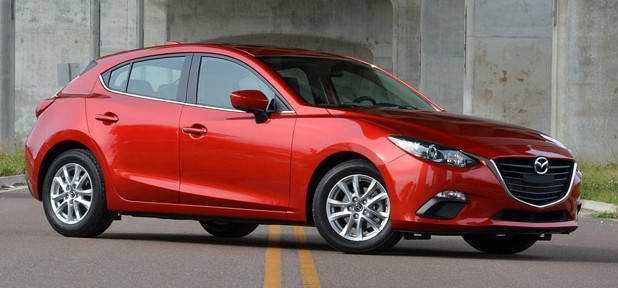 If you frequently use a plug-in blanket to stay warm after supper and retire around 8 before passing out mid- Murder She Wrote, the new Mazda 3 Sport probably it's the car for you.
It's designed for a more youthful and dynamic driver, not the sort of driver after a beige appliance that's planning to frequently clog up the fast lane.
So, if you are like the increasingly demanding breed of compact car shopper that demands increased upscale feature content, design and tech for their dollar, you'll want to give the latest 3 your immediate attention.
And all said, there's just something Mazda just gets right about the 3 every time around, and the third and latest third-generation of the popular compact is no exception.
First the look. The tested five-door hatch, dubbed Mazda 3 Sport, comes off like a small sports station wagon more than a dorky hatchback. It's a bit sleek and very sculpted and has that new signature front-end with LED accent lighting that gives its identity away when you see it coming up the road. Check it out in person, and you'll likely notice a higher-than-average level of passion to the look.
Ditto on board. Delightful little details abound, with generously applied metal trim, contrast stitching and fake but nice-looking carbon fiber accents playing off of one another. Taken as a whole, the cabin sees so many colors and textures and shapes and materials used that you'd nearly forget you aren't in a pricey luxury sedan. Squishy-soft plastic is applied throughout, adding to the quality feel, too.
The central command interface is accessed on a large touch screen mounted to the dash, with common functions popping into action via fingertips or the central command knob. The unit has some graphical horsepower, rarely lags, responds fast, and looks modern and up to date. There are other features, too. The tester got the BOSE stereo system, push-button start, and a full suite of automatic and self-activating features, and a super-geeky pop-up HUD screen that displays your speed and navigation directions onto a thin blade of clear plastic above the instrument cowl that erects when you start the engine. Super slick touch.
Functionally, the 3 Sport works well, too. Four adults of average size should have adequate room for themselves and their baggage, though headroom is decent but not generous. At 5"9', I found headroom adequate, not abundant.
The cargo hold is shallow but wide, and good enough for a four person road trip if everyone packs light. From the driver's seat, some test-drivers will wish for more at-hand storage space, as the door-mounted facilities are only large enough for a water bottle, and the centre console bin is on the small side, and set far back, to make room for the central command knob. Further, front-seat passengers complained about the lack of an inboard arm-rest, since that console bin lid is shaped to only be accessible to the driver. Minor gripes.
Test-drivers can expect a suspension system that feels carefully calibrated to deliver a comfortable ride, nimble handling reflexes, and great filtration of unwanted sensations on rougher surfaces. On said rougher surfaces, the suspension feels tough, dense and durable, not delicate and flimsy. The ride on smooth roads is laid-back and slightly on the taut side, and higher-than-average levels of entertainment value are supported when the 3 is tossed around.
Noise levels do let it down slightly, with generous amounts of tire and wind noise allowed into the cabin at speed.
Power came from the larger of the 3's available Skyactiv four-cylinder engines, namely a 2.5 litre, 185-horsepower mill that's big on low-end grunt, exhibits a meaty growl when pushed, and operates with creamy smoothness, and in near silence, when driven gently. Even shifted conservatively into sixth gear by 60 km/h at the suggestion of the driver computer, it never feels strained.
With numerous advanced fuel-saving technologies and engineering implements at work within the engine and elsewhere in the vehicle under the Skyactiv umbrella, mileage landed at 7.4L / 100km, though the tester had only seen a few hundred kilometers before arriving in my driveway, meaning engine break-in and the associated reduction in fuel consumption weren't available just yet.
The six-speed manual transmission, which is a delight to see in such a high-grade model, supports drivers after smooth shifting with a soft but communicative clutch, and a creamy, chunky and solid shift action that's among the best in the business. It'll prove flattering for stick-shift novices, without a clutch and shifter mechanism that feel like they're made out of day-old poutine.
End of the day, if you're after a small car that hits above its weight for styling, equipment, driving dynamics and an overall upscale and refined feel, the 3 should be considered a priority test-drive. You'll also want to test-drive comparable versions of the Hyundai Elantra GT, Ford Focus and Kia Forte.